Posted: Jun 17, 2014 6:00 AM
If you're looking for another way to enjoy raspberries this season, try these lemon raspberry muffins. Enjoyed hot out of the oven with a smidge of butter, these treats make life that much sweeter.
Ripe raspberries are a real treat in the summer months. Rather than eating them straight out of the carton, turn on the oven and bake up these lemon raspberry muffins. Served warm from the oven with butter (or a little mascarpone cheese), they are a great addition to breakfast, brunch or even a mid-day snack.
Lemon raspberry muffins
Makes 18 to 20 
Ingredients:
1 cup plus 1 tablespoon sugar, divided
Zest from 2 lemons
2 cups all-purpose flour
1/2 teaspoon salt
2-1/2 teaspoons baking powder
1/2 cup (1 stick) unsalted butter, room temperature
1 egg, room temperature
1 cup sour cream
2 teaspoons vanilla extract
1 tablespoon lemon juice
1 cup raspberries
Directions:
Preheat oven to 375 degrees F and line a muffin pan with paper liners.
Add 1 cup sugar and the lemon zest to the bowl of a stand mixer or a large bowl and stir with a spoon or your fingers to combine.
In a medium bowl, combine flour, salt and baking powder and set aside.
Using a stand mixer or an electric mixer, beat butter into the lemon sugar mixture until smooth.
Beat in the egg. Next, beat in the sour cream and then the vanilla and lemon juice.
Add the flour mixture and beat until just combined.
Using a spoon, fold in the raspberries.
Using a large cookie scoop or a spoon, fill the lined muffin cups 2/3 to 3/4 full with the batter. Sprinkle each with a little of the remaining tablespoon of sugar.
Bake lemon raspberry muffins for 22 to 25 minutes, or until lightly browned on top and a cake tester inserted in the center comes out clean. Let muffins cool in the pan for a few minutes and then transfer to a wire rack to cool for a few more minutes before enjoying.
Store leftover muffins in an airtight container or freeze for enjoying at a later time.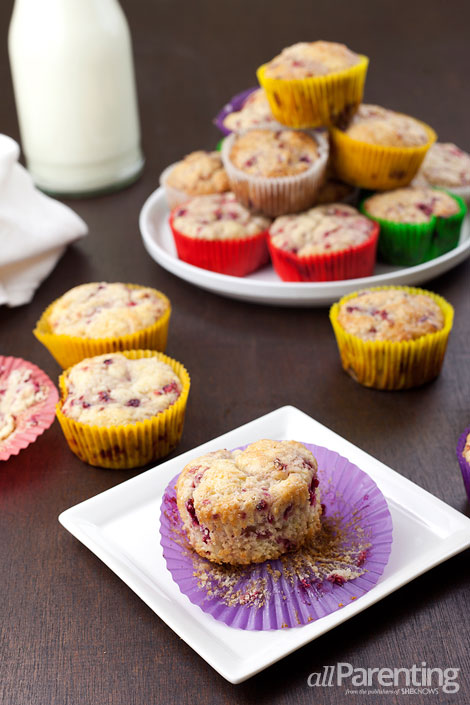 Cure your sweet tooth with endless dessert ideas!