Posted: Jun 11, 2014 6:00 AM
How do you make french fries and nachos better? You put them together. Thick-cut homemade french fries are topped with the regular nacho fixings to create these absolutely addictive french fry nachos. They really are the best of both worlds.
French fry nachos, or franchos, are one of those meals that adults and kids can both agree on. Because really, who doesn't love french fries or nachos? The fries do take some time to make, but it's absolutely worth it because they are crispy on the outside and tender on the inside. You know, exactly how steak-cut fries are supposed to be. Pile them up with your favorite nacho toppings and you have a crowd-pleasing lunch or dinner. Enjoy.
French fry nachos
Serves 4 to 6
Ingredients:
6 to 8 russet potatoes
Peanut oil
Kosher salt
1 cup cheddar cheese, shredded
1 (15-ounce) can black beans
Sour cream, salsa, avocado, cilantro, jalapeño and other nacho toppings
Directions:
Wash potatoes and cut into thick wedges. Place the sliced potatoes in a strainer and rinse under cold water until the water runs clear to remove the excess starch. Put the potato wedges into a large bowl and cover with cold water. Place in the refrigerator for at least 30 minutes.
Drain the water from the fries and lay them out on paper towels lined on the counter. Fill a cast iron skillet 2/3 full with peanut oil and heat to 350 degrees F. In batches, place the fries in the hot oil and fry for 7 minutes. Using a slotted spoon, remove the fries from the oil and place on the paper towels lined on the counter. Before adding more fries to the oil, make sure that the oil is back up to 350 degrees F.
Raise the heat of the oil to 400 degrees F and fry in batches until golden brown. Remove from the oil using a slotted spoon and sprinkle with kosher salt to taste. Again, wait until the oil heats back up to 400 degrees F before adding the next batch of fries.
Divide fries among the plates and top with cheddar cheese, black beans and your other favorite nacho toppings before enjoying.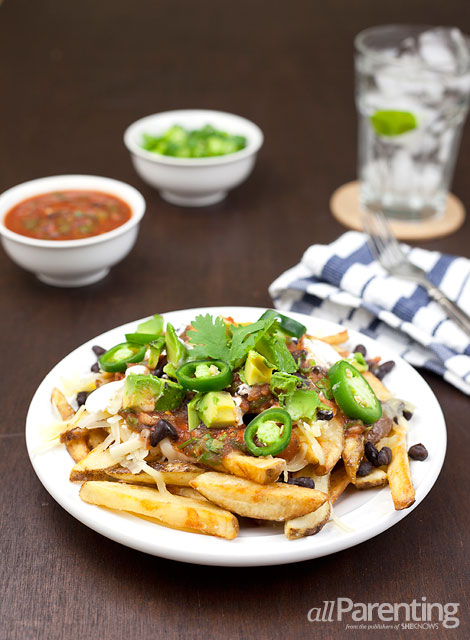 Hungry? Scroll through our delicious recipes!