Posted: Jun 10, 2014 6:00 AM
Stock up on fresh peaches the next time you see them. You'll need them to make these bourbon poached peaches. Served over vanilla ice cream with maybe a drizzle of caramel sauce, this boozy dessert is the perfect way to end your day.
'Tis the season for fresh peaches. And it's definitely one of our favorite seasons because there is nothing sweeter in life than a ripe, juicy peach. While we have no problem eating peaches straight from the farmers market, we also like to enjoy them in a variety of other ways, including these bourbon poached peaches. Served with a scoop or two of vanilla bean ice cream, it's definitely a dessert summer dreams are made of.
Bourbon poached peaches
Serves 4 to 6
Ingredients:
6 peaches
1-1/2 cups water
1/2 cup honey
1 vanilla bean, sliced open down the middle
1/2 teaspoon Chinese five-spice powder
1 cup bourbon
Vanilla bean ice cream
Directions:
Bring a large pot of water to a boil. While waiting for the water to boil, cut a small X into the bottom of each peach.
Once the water is boiling, add the peaches and boil for 1 minute. While the peaches are boiling, add ice to a large bowl and fill with cold water to make an ice-water bath. Transfer the peaches to the ice-water bath and let cool for a few minutes.
Once the peaches are cool, peel them and cut into thick wedges. Gently pull each wedge away from the pit.
Add 1-1/2 cups water and honey to a medium saucepan and bring to a boil, stirring to dissolve the honey. Scrape the inside of the vanilla bean pod into the honey/water mixture, add the vanilla bean pod and the Chinese five-spice powder. Stir the mixture and then add the bourbon and sliced peaches.
Turn the heat to medium low and simmer the peaches until they are tender but still hold their shape, about 5 to 7 minutes.
Using a slotted spoon, remove the peaches from the poaching liquid and place in a medium bowl. Turn the heat up to medium and continue to cook the syrup until it is reduced by half, about 15 minutes. Pour the poaching syrup over the peaches and let cool completely.
Once the peaches are cooled, serve over vanilla bean ice cream to enjoy right away. Be sure to remove the vanilla bean pod from the peaches before eating. Store any remaining peaches in a Mason jar and refrigerate.
Looking for more ways to enjoy peaches? Check out this collection of best peach recipes or try some summer sangria.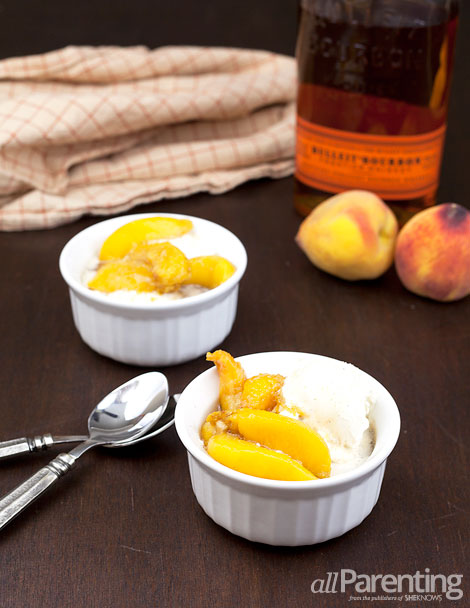 Cure your sweet tooth with endless dessert ideas!