Posted: Jun 18, 2014 6:00 AM
A good breakfast at home doesn't have to involve a lot of time or work. In this simple yet sophisticated dish, a ripe avocado is spread over whole wheat toast and topped with a fried egg and Gruyère cheese. It sounds (and tastes) so fancy, but it only takes minutes to put together. Now that's what we call the real breakfast of champions.
When it comes to breakfast, we don't always have a lot of time in the mornings. But don't let that stop you from enjoying a healthy and flavorful meal. This fried egg, avocado and Gruyère cheese dish served over toast only takes minutes to make so you don't have to worry about time. And it tastes so good you won't mind eating it often — you might even find yourself eating this meal for lunch or dinner...
Fried egg, avocado and Gruyère cheese over toast
Serves 2
Ingredients:
2 pieces whole wheat bread
1 to 2 tablespoons olive oil or butter
2 eggs
1/2 avocado
1/2 cup Gruyère cheese, shredded
Salt and pepper to taste
Directions:
Put the bread in a toaster oven and turn on.
Heat a pan over medium heat, add the oil or butter and swirl it around to coat the bottom of the pan. Crack the eggs into the pan and let them cook until the whites are completely cooked and the yolk is still runny. For sunny side up eggs, don't flip the egg when cooking. For over-easy eggs, flip once to cook on both sides.
Once the toast is done, divide the avocado between the 2 slices and spread it all around (this works best when the avocado is really ripe). Add 1/4 cup of the shredded Gruyère cheese and top with the fried egg.
Add salt and pepper to taste and enjoy your easy yet delicious breakfast.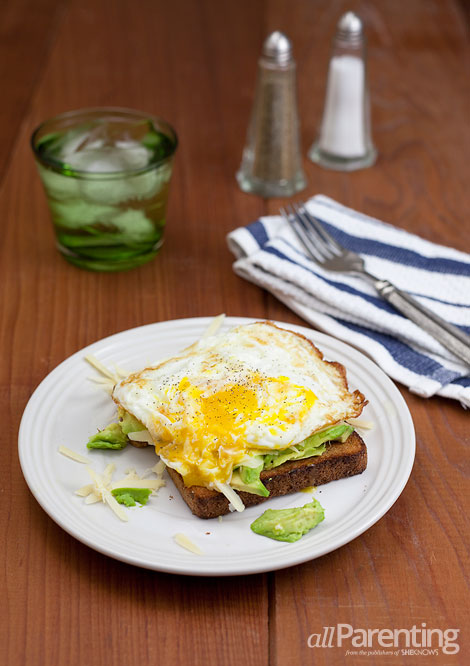 Hungry? Scroll through our delicious recipes!