Posted: Jun 02, 2014 6:00 AM
Why should pizza have all the fun? Kick up some chicken with a Thai peanut sauce and serve it in a pita alongside fresh carrots and red peppers.
Ever since the West Coast restaurant California Pizza Kitchen became a "thing," Thai chicken pizzas have made their way onto restaurant menus and into home kitchens all over the country and beyond. As easy as it may be to whip up a pizza using a pre-baked crust, sometimes turning on the oven feels like a chore. That's where this Thai chicken pita sandwich comes in.
If you don't have any leftover cooked chicken in your fridge, a rotisserie chicken from the store stands in like a champ. Simply shred the chicken and toss it into a bowl with diced red bell pepper and grated carrot. The glue that really holds this sandwich all together, and makes it utterly irresistible, is the homemade peanut sauce.
At first glance, the list of ingredients for the sauce looks long, but it will take you no more than five minutes to throw everything in the blender and puree it into a silky, flavorful sauce. What if you don't want to use rice wine in the sauce? It can be left out. Just add an extra tablespoon of water for moisture.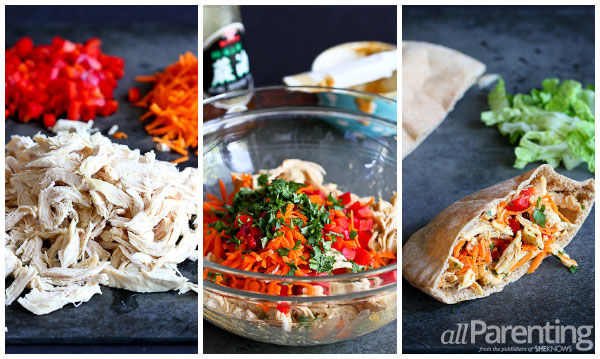 Thai chicken pita sandwiches
Serves 6
Sauce recipe adapted from Cooking Light magazine
Ingredients:
The peanut sauce:
2 tablespoons sesame oil
1/2 cup peanut butter
1/3 cup soy sauce
3 tablespoons rice wine or sherry
1-1/2 tablespoons rice vinegar
1 tablespoon water
1 tablespoon canola oil
1 tablespoon packed brown sugar
1 tablespoon minced fresh ginger
1/2 teaspoon chili garlic sauce or red chile flakes
The sandwich:
2 cooked chicken breasts, shredded
1/2 red bell pepper, diced
1 large carrot, grated
3 pita circles, cut in half
1-1/2 cups chopped romaine lettuce
Directions:
The peanut sauce:
In a blender, combine sesame oil, peanut butter, soy sauce, rice wine, water, rice vinegar, canola oil, brown sugar, ginger and chili garlic sauce. Blend until smooth.
The sandwich:
In a large bowl, stir together the chicken, red bell pepper and carrot. Add about 2/3 of the peanut sauce and toss to coat. Add more to taste, if desired.
Divide the chicken mixture and romaine lettuce evenly between the pita halves. Drizzle with extra sauce, if desired. Serve.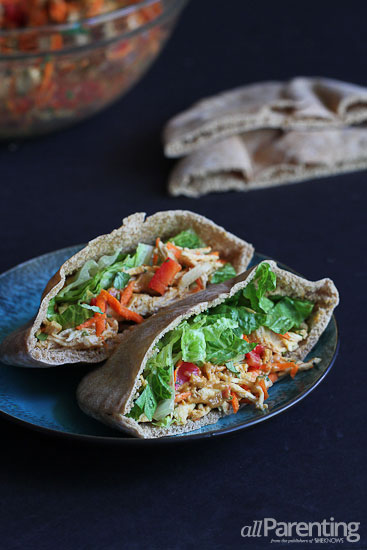 Hungry? Scroll through our delicious recipes!