Posted: Jun 09, 2014 6:00 AM
A classic BLT sandwich morphs into a dinner salad that the whole family will love. Bacon and tomatoes are mixed with chicken, and served on a bed of crisp romaine lettuce.
There is something about the word "bacon" that evokes exclamations of excitement from most carnivores. Crispy and salty, just a few bacon crumbles go a long way, which means bacon can be enjoyed in moderation if you are striving to eat healthfully.
While "BLT" is typically synonymous with a sandwich, it easily turns into a dinner salad when paired with some shredded chicken. Almost any lettuce would do, but romaine lettuce has just the right amount of crispiness to hold up to the other ingredients.
You may be tempted to pour on a bottled salad dressing, but don't miss the opportunity to learn how to make your own dressing using this quick and easy recipe. You may never go back to bottled dressings again.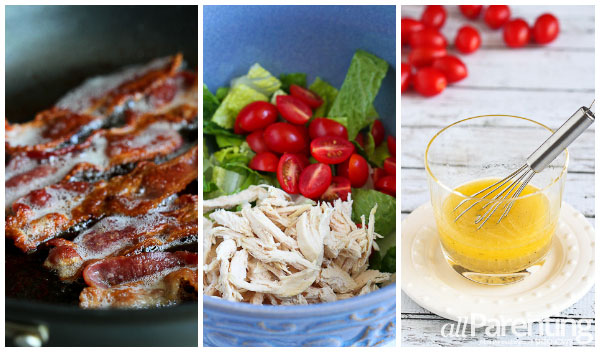 BLT chicken salad
Serves 4
Ingredients:
The dressing:
2 tablespoons white wine vinegar
2 tablespoons fresh lemon juice
1 teaspoon honey or agave nectar
1/4 teaspoon salt
1/4 cup extra virgin olive oil
The salad:
6 cups (packed) chopped romaine lettuce
1-1/3 cups halved grape or cherry tomatoes
2-2/3 cups shredded cooked chicken breast
4 slices cooked bacon, crumbled
Directions:
The dressing:
In a small bowl, whisk together the vinegar, lemon juice, honey, salt and olive oil.
The salad:
In a large bowl, toss together the lettuce, tomatoes and chicken. Toss gently with the dressing.
Divide the salad between 4 plates, top with bacon and serve.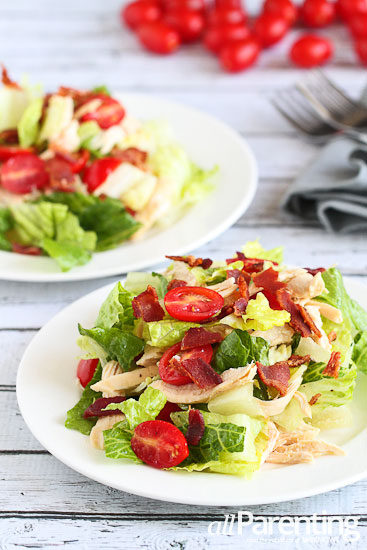 Hungry? Scroll through our delicious recipes!