Posted: Jun 16, 2014 6:00 AM
Even though tilapia is one of the most economical fish out there, it deserves to get dressed up sometimes. This garlic and herb chimichurri sauce lends a punch of flavor to the simple baked fish.
Tilapia is now one of the most common fish found at supermarkets, which means that we all need a constant flow of recipe ideas to keep things interesting. Luckily, tilapia is pretty versatile. It can be pan fried and tucked into soft tacos with honey-lime slaw, topped with chipotle-lime butter, made into crispy fish sticks or baked and drizzled with a chimichurri sauce. All of a sudden, tilapia doesn't sound so boring anymore.
If you are not familiar with chimichurri sauce, be prepared to become addicted. It can be whipped up in a food processor or blender in about five minutes, and is bursting with herb and garlic flavors. The main ingredients are typically parsley and garlic, but this recipe also includes fresh oregano and a pinch of red pepper flakes for a subtle brush of heat. In this version, the chimichurri sauce is made into a dressing so that it can be easily drizzled over the baked tilapia.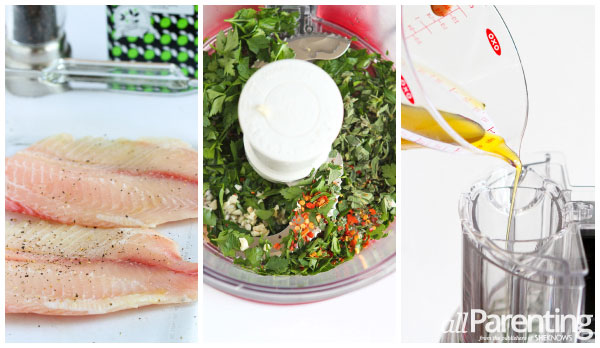 Baked tilapia with chimichurri sauce
Serves 4
Ingredients:
The sauce:
1/2 cup roughly chopped Italian parsley
3 tablespoons red wine vinegar
2 tablespoons water
2 garlic cloves, minced
3/4 teaspoon salt
1/2 teaspoon ground pepper
1/4 teaspoon red pepper flakes
1 tablespoon fresh oregano
1/4 cup extra virgin olive oil
The rest:
4 (6 ounces each) tilapia fillets
1 tablespoon olive oil
1/4 teaspoon salt
1/4 teaspoon ground pepper
Directions:
The sauce:
In the bowl of a food processor or blender, combine parsley, red wine vinegar, water, garlic, kosher salt, pepper, red pepper flakes and oregano.
Pulse until the parsley and oregano are finely chopped, but not completely smooth, scraping down the sides after every few pulses.
With the food processor running, slowly pour in the olive oil.
The rest:
Preheat the oven to 400 degrees F. Lightly coat a glass baking dish with cooking spray.
Rub the tilapia fillets with olive, and season on both sides with salt and pepper.
Place the tilapia in the prepared baking dish. Bake until the fish is just cooked through, 10 to 12 minutes.
Place each tilapia fillet on a plate and drizzle with the chimichurri dressing. Serve.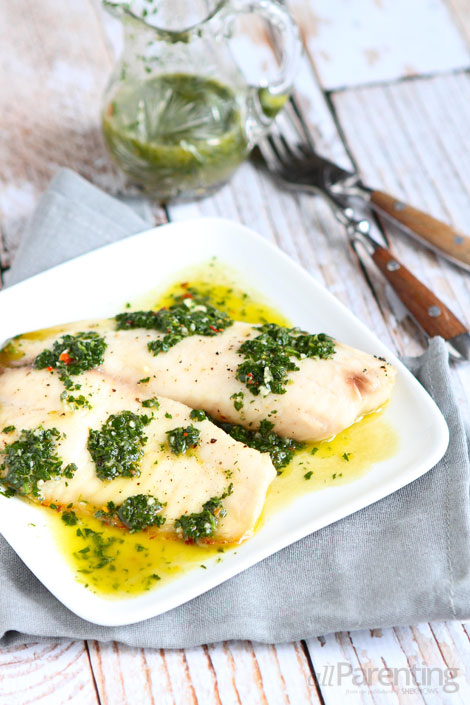 Hungry? Scroll through our delicious recipes!