Posted: Jun 19, 2014 9:00 AM
Now you can have your cake and eat it, too, with these guilt-free dessert recipes that boast low-calorie and high nutrition benefits. From almond maple popcorn to paleo lemon brownies, serve up these secretly healthy desserts the next time you're craving sweets.
Almond maple popcorn snack
Popcorn is not only a snack favorite of parents and kids alike, but it's packed with whole grains, fiber and antioxidants making it way healthier than chips. So, when reaching for a low-calorie dessert that still satisfies your craving for popcorn, check out this sweet and savory dessert recipe from Super Healthy Kids.
Ingredients:
1/3 cup popcorn kernels
Brown paper bag
2 tablespoons butter
1 tablespoon maple syrup
3 tablespoons almond butter
Chopped almond pieces (optional)
Chocolate frosting shots
Whether you top your favorite healthy dessert or eat it straight up, this low-calorie dessert recipe from Chocolate Covered Katie will satisfy even the hardest-to-satisfy chocolate craving.
Ingredients:
1 can full-fat coconut milk or coconut cream
1/4 cup plus 1 tablespoon cocoa powder or cacao powder
1/2 teaspoon pure vanilla extract
Sweetener of choice to taste
Healthy cherry milkshake
With only four ingredients and made in three minutes flat, this sugar-free, low-fat and high protein milkshake by Desserts with Benefits will have you wondering why you wasted the calories on any other dessert before it.
Ingredients:
35 (approximately 3 cups) frozen organic cherries (pitted/without stems)
1 cup plain, nonfat Greek yogurt
1 cup unsweetened vanilla almond milk
2 tablespoons Truvia Spoonable
Pumpkin pie chia seed pudding
A gluten-free, low-calorie healthy dessert perfectly packed with good-for-you ingredients, this guilt-free dessert by Slender Kitchen is good enough to gobble up for breakfast, snack or dessert.
Ingredients:
1/2 cup pumpkin puree
1-1/2 tablespoons chia seeds
3/4 cup light almond milk
Dash of vanilla extract
1/2 or more teaspoon pumpkin pie spice
1 tablespoon maple syrup
Paleo lemon brownies with coconut lemon glaze
Not that you needed a reason to love brownies, but these guilt-free desserts by Living Healthy with Chocolate make dessert mandatory instead of an indulgence.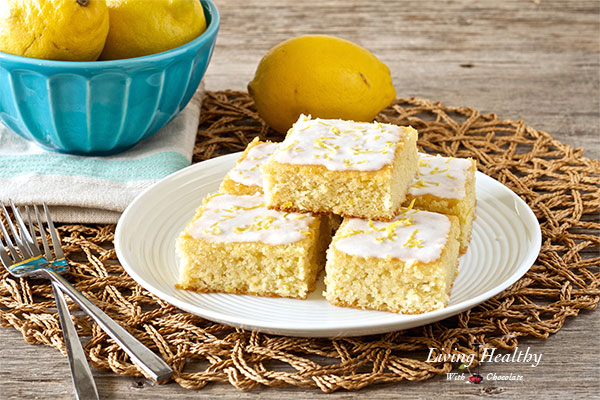 Photo credit: livinghealthywithchocolate.com
Brownie ingredients:
2 cups almond flour
1 tablespoon arrowroot powder
1/2 teaspoon baking soda
1/4 teaspoon salt
2 eggs, room temperature
2-1/2 tablespoons lemon juice
1 tablespoon lemon zest
4 tablespoons raw honey
1/4 cup coconut oil, melted
1/3 cup coconut milk, full fat
2 tablespoons coconut butter
1 teaspoon vanilla extract
Coconut lemon glaze ingredients:
2 tablespoons coconut milk, full fat
2-1/2 teaspoons coconut butter
1/2 tablespoon lemon juice
2 teaspoons lemon zest
2 teaspoons arrowroot powder
1 teaspoon raw honey
Read more about healthy food
Foods that improve your looks
Spring salads for Mother's Day
Slow cooker spaghetti and turkey meatballs