Posted: Jul 23, 2014 6:00 AM
Don't feel like turning on the oven or the stove to cook dinner tonight? No problem. Slice up some veggies and make this raw pad Thai. Served with a creamy peanut sauce, it's a great dinner for the summer months when you want something light and healthy.
The best summer dinners are the ones that require little preparation and no cooking. And that's exactly what you get with this raw pad Thai recipe. Veggies fresh from the garden or the farmers market are cut up, added to a bowl and topped with a creamy peanut sauce. Throw in some chopped peanuts for added crunch (and protein) and dinner is done. Just don't forget to pour yourself a glass of wine to enjoy while eating your veggies. You deserve it.
Raw pad Thai with creamy peanut sauce
Serves 4
Ingredients:
1 medium zucchini, julienned or spiraled
1 large carrot, julienned or grated
1 red bell pepper, thinly sliced
1-1/2 cups red cabbage, thinly sliced
Creamy peanut sauce (recipe below)
1/3 cup chopped peanuts
1/4 cup cilantro
Directions:
Add zucchini, carrot, red bell pepper and cabbage to a large bowl.
Add the creamy peanut sauce and toss to combine.
Serve with the chopped peanuts and cilantro and enjoy.
Creamy peanut sauce
Ingredients:
1 garlic clove
1/3 cup peanut butter (try homemade peanut butter)
2 tablespoons fresh-squeezed lime juice (about 2 limes)
2 tablespoons soy sauce (for a completely raw version of this recipe, try Nama Shoyu. Adjust the amount to taste as it has a stronger flavor than regular soy sauce.)
2 tablespoons water
1/2 tablespoon honey
1 teaspoon fresh grated ginger
Directions:
Add all ingredients to a food processor or a blender and blend until combined.
Transfer the sauce to a small bowl and refrigerate until ready to use.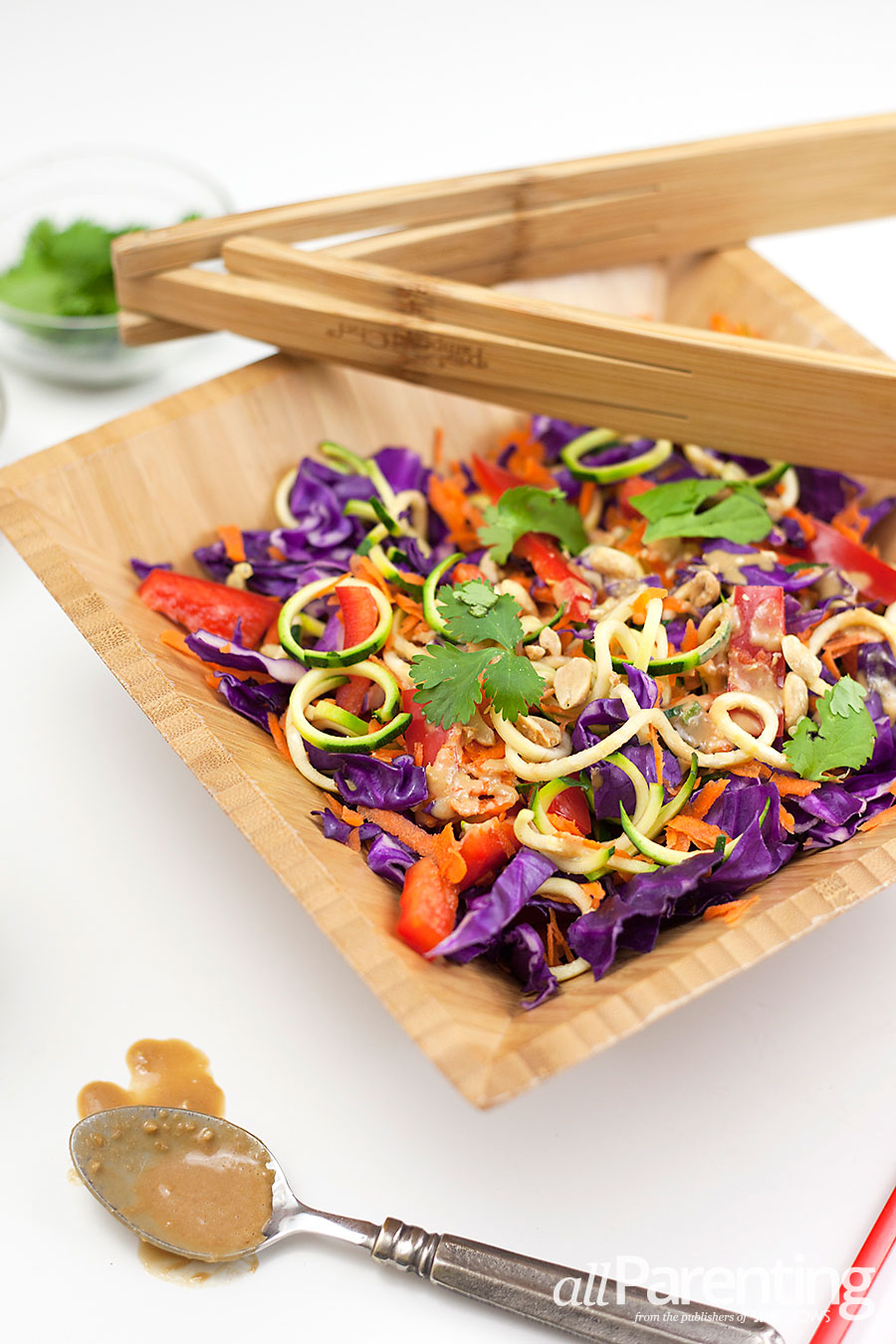 Hungry? Scroll through our delicious recipes!