Posted: Jul 07, 2014 6:00 AM
Grilled chicken and avocado are a match made in heaven, and this easy guacamole adds zestiness and richness to this recipe.
There are a couple of tricks to making a really great grilled chicken burger. You could go the ground chicken route, but most people have boneless, skinless chicken breasts on hand, which tend to have a reputation of being dried out and unappetizing. That is why there are a couple of rules to be followed when taking them from lowly chicken breast to fabulous burger.
The first trick is to make the chicken breasts thin so that they cook quickly and evenly. Simply place them between two pieces of plastic wrap and pound away until the chicken breasts are about 3/4-inch thick. Season them with salt, pepper and other spices to impart an extra punch of flavor.
The second trick involves a life rule that works in many circumstances: Add guacamole to make everything better. This version takes less than five minutes to make, but adds an incredible amount of flavor. You and your family will be hooked on chicken burgers for good.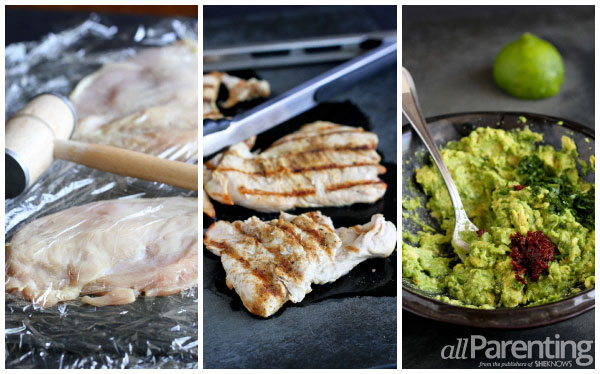 Grilled chicken burgers with easy guacamole
Serves 4
Ingredients:
The guacamole:
2 ripe avocados
1 chipotle pepper (sold in cans in adobo sauce), seeded and minced
2 tablespoons minced cilantro
1 teaspoon fresh lime juice
1/8 teaspoon salt
1/8 teaspoon ground pepper
The burgers:
2 boneless, skinless chicken breasts
1-1/2 teaspoons ground cumin
3/4 teaspoon salt
1/2 teaspoon ground pepper
4 hamburger buns, split in half & lightly toasted
2 tomatoes, sliced
Directions:
The guacamole:
In a medium-sized bowl, mash the avocados with the back of a fork until fairly smooth. Stir in the chipotle pepper, cilantro, lime juice, salt and pepper.
The burgers:
Preheat the grill to medium-high heat. Lightly oil the grill.
Place the chicken breasts between 2 large pieces of plastic wrap. Using the smooth side of a meat mallet, pound the chicken breasts until they are 1/2- to 3/4-inch thick. Cut each in half crosswise.
Season the chicken breasts with cumin, salt and pepper, gently pressing the seasonings into the chicken.
Grill the chicken breasts until just cooked through, about 2 minutes per side.
Place 1 piece of chicken on each hamburger bun bottom. Divide the guacamole and tomatoes evenly between the burgers. Top with the other half of the hamburger bun. Serve.
Hungry? Scroll through our delicious recipes!