Posted: Jul 21, 2014 6:00 AM
Grilled chicken never needs to be boring again. Cook the chicken until it is tender and still moist, then top it with a sweet corn and tomato salsa. That is, if you're able to resist eating all of the salsa first.
When salsa is as good as this corn and tomato version, it should be eaten with everything that passes over your plate. It does its job well by turning spiced-rubbed and grilled chicken breasts into a meal that you will want to serve over and over again this summer. But why stop there? Scoop it up with tortilla chips, make a multi-layered dip with black beans and guacamole, sprinkle it over a dinner salad or use it to spice up fish tacos. If there is any left over, just eat it with a spoon. You won't be sorry.
Boneless, skinless chicken breasts are a mainstay for anyone who is trying to eat well, but they have a tendency to turn dry and unappealing as quick as a wink. So, what's the trick?
Marinating the chicken in a spice mixture helps, but the most important tip is to avoid overcooking the chicken. Many people are nervous about serving underdone chicken breasts, for fear of making their families sick. And so we cook them until all moisture is leached out from the chicken. Remember that the chicken will continue cooking once it is removed from the grill. If you remove it just before you think it's done, you will likely be rewarded with a tender, juicy piece of meat.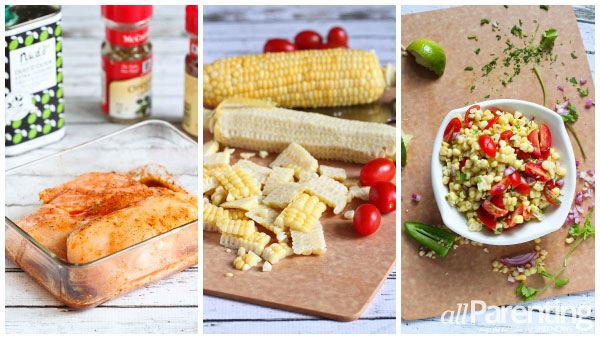 Grilled chicken with corn salsa
Serves 4
Ingredients:
The chicken:
2 tablespoons olive oil
1 tablespoon white wine vinegar
1 teaspoon chili powder
1 teaspoon dried oregano
1/2 teaspoon salt
1/2 teaspoon ground pepper
4 boneless, skinless chicken breasts
The salsa:
2 ears corn, cooked and kernels cut off
1 cup grape tomatoes, cut in half
1/4 cup chopped red onion
1/2 jalapeño pepper, seeded & minced
3 tablespoons minced cilantro
1 teaspoon fresh lime juice
1/4 teaspoon salt
1/4 teaspoon ground pepper
Directions:
The chicken:
In a shallow baking dish, whisk together the olive oil, white wine vinegar, chili powder, oregano, salt and pepper.
Place the chicken in the marinade, cover and refrigerate for at least 1 hour and up to 4 hours.
Preheat the grill to medium-high heat.
Grill the chicken until it is just cooked through, about 4 minutes per side.
The salsa:
In a medium bowl, mix together the corn, tomatoes, red onion, jalapeño pepper, cilantro, lime juice, salt and pepper.
Serve the salsa over the chicken.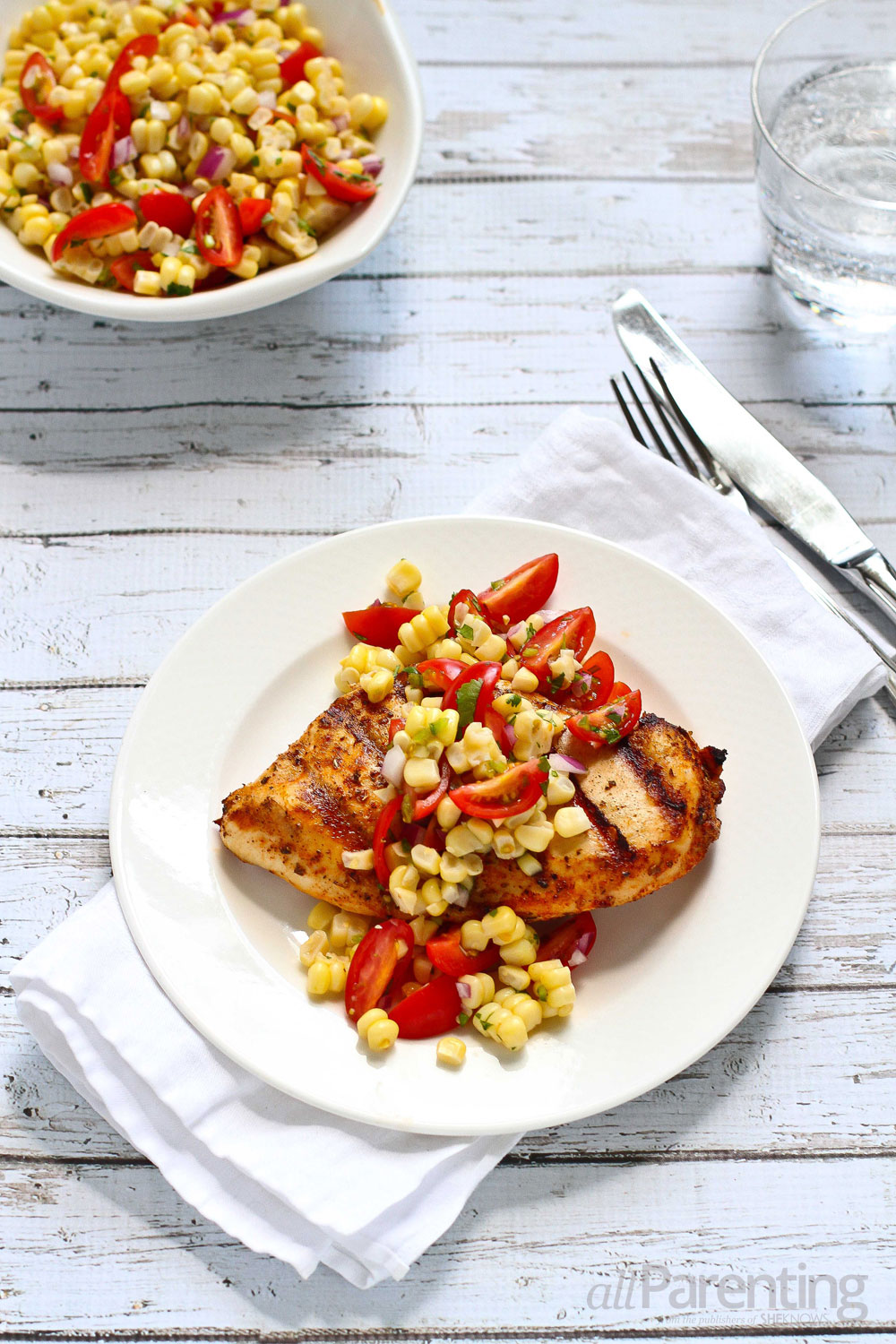 Hungry? Scroll through our delicious recipes!