Posted: Aug 07, 2014 6:00 AM
Turn breakfast into a special treat with this recipe for French toast with caramelized bananas. Covered with real maple syrup, this fun breakfast dish will please adults and kids alike. Seconds will definitely be requested.
French toast is one of those breakfast dishes that's easy to whip up and the kids love it. The next time requests come in for this meal, take it to the next level by adding in some caramelized bananas. Those along with real maple syrup (and a little dusting of powdered sugar if you're feeling really generous) and the kids will be happy campers when sitting down to eat.
French toast with caramelized bananas
Serves 4
Ingredients:
4 eggs
1 cup half and half (or milk of your choice)
1 teaspoon ground cinnamon
1 teaspoon vanilla extract
4 thick slices bread (day old challah or egg bread are both great choices)
2 tablespoons unsalted butter
1/4 cup light brown sugar
2 bananas, peeled and sliced in 1/4-inch pieces
Maple syrup
Directions:
Preheat oven to 350 degrees F and grease a large skillet pan with butter and preheat over medium heat.
In a large shallow bowl, whisk eggs, half and half, cinnamon and vanilla until combined.
Dip bread in egg mixture, turning to coat on both sides. Carefully lift the bread from the egg mixture, allowing the excess to drip off.
Place the bread in the preheated skillet pan and cook until brown, flip the bread and do the same for the other side. Once cooked on both sides, transfer the bread to a baking sheet. Do this for all pieces of bread.
Put the French toast in the oven and bake for 5 to 10 minutes, depending on the thickness of the bread.
While the bread is in the oven, add the butter and brown sugar to the skillet pan and turn the heat up to medium high. Melt the butter and brown sugar together, stirring as needed with a wooden spoon until it is all combined.
Add the bananas in a single layer to the skillet pan and let cook for a minute or 2. Flip the banana slices and cook on the other side for another minute or 2, or until both sides are golden brown.
Serve the French toast with the caramelized banana slices and warm maple syrup and enjoy.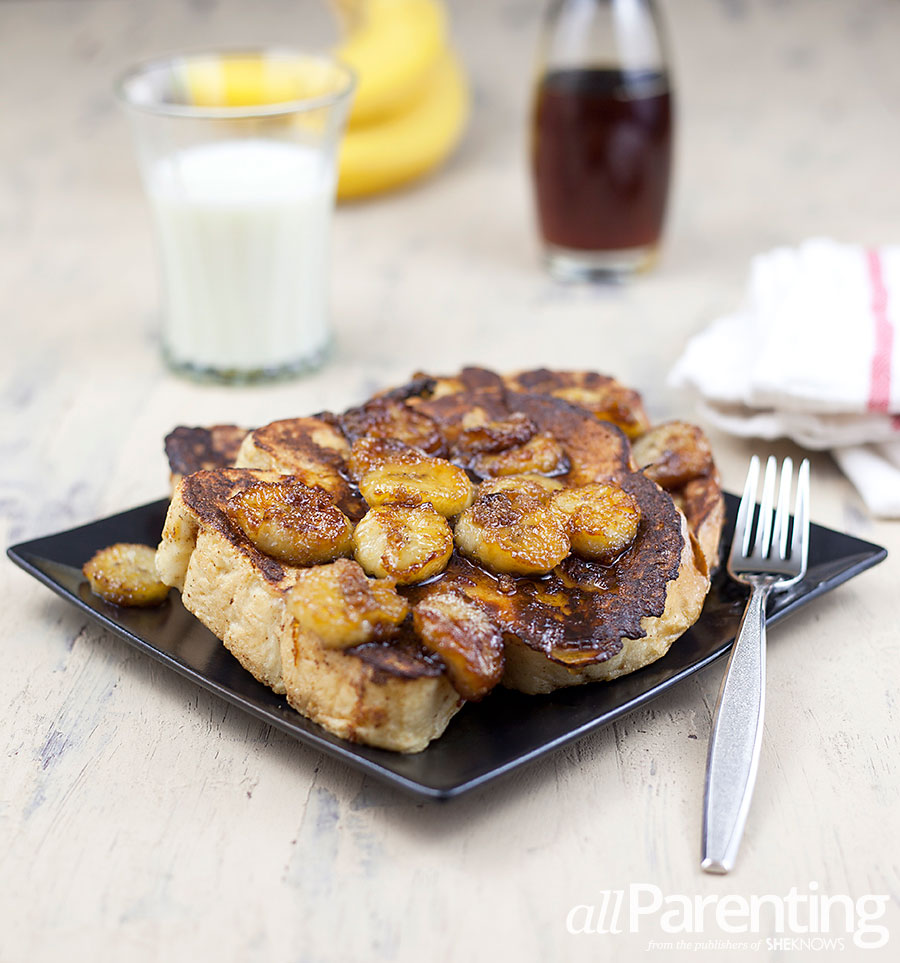 Hungry? Scroll through our delicious recipes!