Posted: Sep 08, 2014 8:00 AM
It's no secret most kids love pasta smothered with sauce but can't stand to eat veggies. Rather than fight with the kids to eat the healthiest part of their dinner, combine everything together to make this fettuccine Alfredo with colorful veggies. Who knows... the kids might even ask for seconds.
Us parents learn a lot of ways to "trick" kids into eating their vegetables. One of my favorites is to add them to pasta dishes, such as this fettuccine Alfredo with colorful veggies. Something about the noodles and the sauce makes those troublesome veggies a lot easier to forget. And you know what? We're OK with that as long as the kids are eating them.
Fettuccine Alfredo with colorful veggies
Serves 4 to 6
Ingredients:
8 ounces fettuccine noodles
4 tablespoons butter, divided in 2
8 to 10 asparagus stalks, washed and cut into 1-inch pieces
3 carrots, peeled and cut into 1/4-inch pieces
1 generous cup broccoli, washed and chopped
2 tablespoons flour
1 cup half and half (or whole milk), plus 1/8 to 1/4 cup for thinning sauce if desired
1 cup fresh-grated Parmesan cheese
Salt and pepper to taste
Lemon zest (optional)
Directions:
Bring a large pot of water to boil, add a pinch of salt and fettuccine noodles. Cook until the pasta is done.
While the pasta is cooking, melt 2 tablespoons of butter over medium heat in a large skillet pan. Add the vegetables and sauté until tender. When done, transfer to a small bowl and set aside.
In the same pan, melt the 2 remaining tablespoons of butter and stir in the flour. Let this cook for about a minute. Add in the half and half (or milk) and cook while stirring until the sauce is thick and bubbly. Stir in the Parmesan cheese. Add a little more half and half or milk if desired to thin the sauce to desired consistency.
When the pasta is done, strain out the water and add the noodles to the pan with the Alfredo sauce along with the vegetables. Toss to combine and season with salt and pepper to taste. Top with a little lemon zest before serving to brighten up the dish if desired.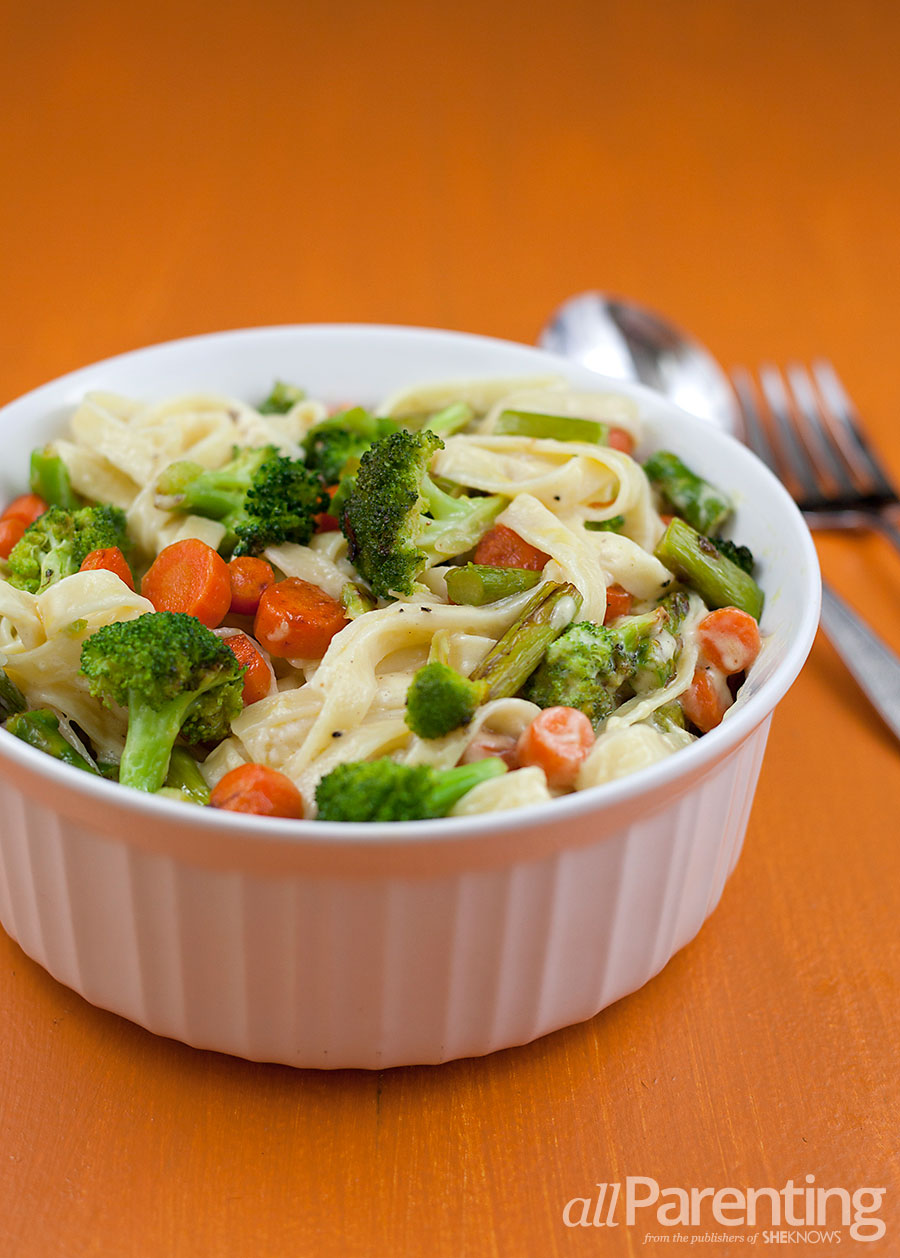 Hungry? Scroll through our delicious recipes!