Posted: Sep 01, 2014 8:00 AM
If the idea of drinking vinegar sounds a little strange, we understand. We thought that at first too. But, it's really not — especially when infused with fruit and herbs. Try it out in this blackberry thyme shrub recipe and see for yourself how tasty it can be.
Shrubs, or drinking vinegars, were once used as a way to preserve fruit in the days before refrigeration. These mixtures fell out of favor for a time, but are now making a comeback with the cocktail and preserving crowd.
If you're brand new to making shrubs, take a few minutes to read the how to make shrubs article over at Serious Eats. It has some great information on different techniques for making shrubs along with the ingredients that you should use (fruit, sugar and vinegar). After that, have fun playing around with this recipe for a blackberry thyme shrub and see what other creations you can come up with.
Blackberry thyme shrub
Makes 1-1/2 cups
Ingredients:
1 cup blackberries, preferably organic
3/4 cup white sugar
3/4 cup apple cider vinegar
5 fresh thyme sprigs
Directions:
Add blackberries to a medium bowl and cover with sugar. Gently mash the berries with a spoon, a muddler or your hands and stir. Cover the bowl and place in the refrigerator overnight.
After placing the blackberries in the fridge, pour apple cider vinegar into a measuring glass (or other small bowl) and add the thyme sprigs. Cover and let sit overnight to infuse (this does not need to be refrigerated).
Strain the blackberries and sugar mixture using a mesh strainer, pressing lightly on the solids to release the juice as needed. Be sure to scrape any leftover sugar in the bowl into the strainer as well.
Remove the thyme sprigs from the vinegar and pour the vinegar into the blackberry sugar syrup. Stir with a whisk to combine.
Transfer the mixture to a glass bottle, put the lid on and place in the refrigerator to finish the melding of flavors. Check the shrub once a day, shaking the bottle as needed to combine the sugar. Over time, the sugar will dissolve.
After a week, start tasting the shrub. Once it has a nice fruit flavor without an overwhelming kick of vinegar, it's ready to enjoy.
To drink, add an ounce or 2 to a glass, fill with ice and top with soda water. To make it boozy, add a shot of gin, vodka or rum to the drink. A little squeeze of lemon or lime is also a nice touch.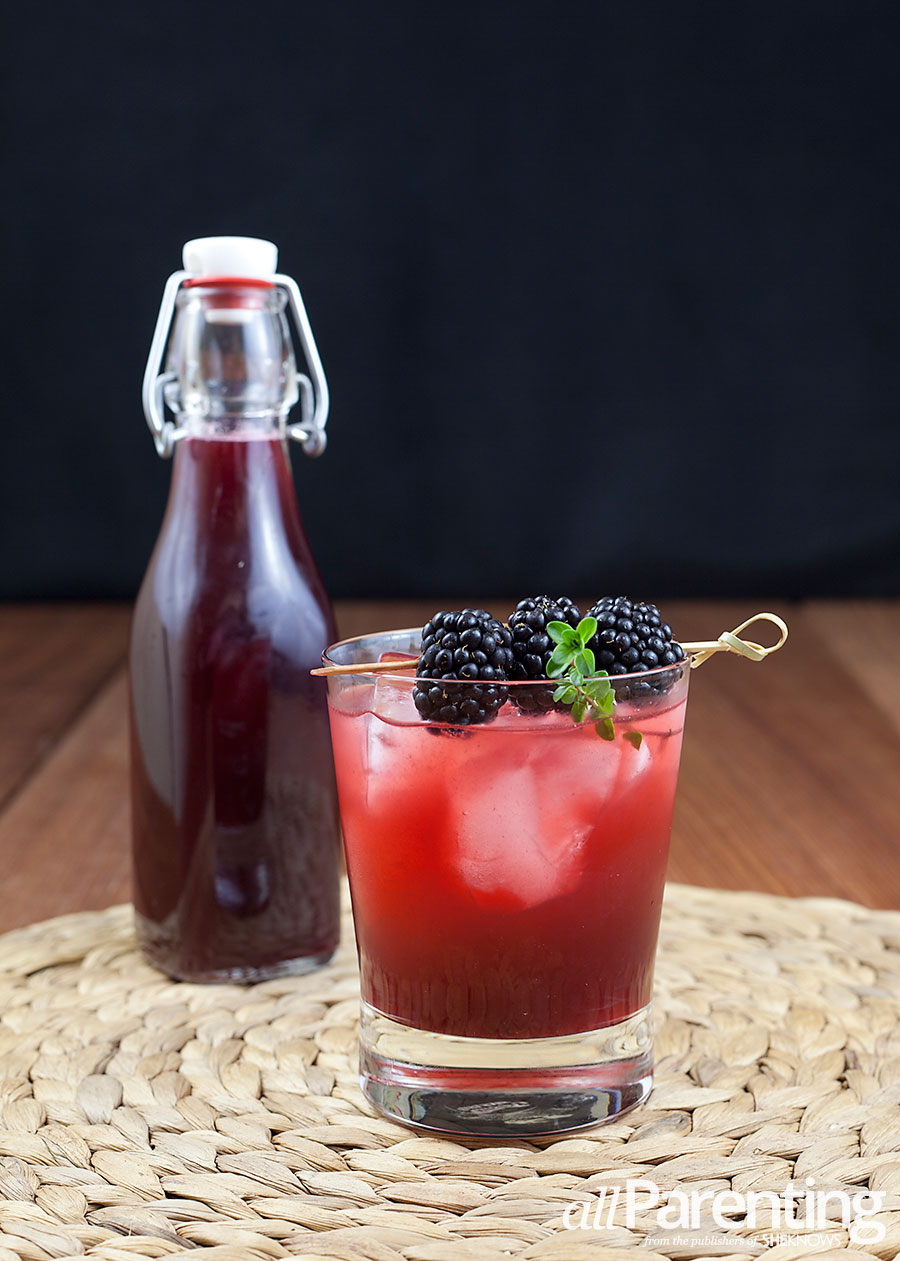 Cheers! We have lots of cocktail recipes!