Posted: Sep 21, 2014 8:00 AM
Short on time for dinner tonight? That's OK because these spinach-mushroom quesadillas don't take long to put together. Add in some blue cheese crumbles and balsamic vinegar to bump up the flavor and you have a fancy meal in less than 20 minutes.
Why have regular cheese quesadillas when you can have these delicious spinach-mushroom quesadillas instead? From the blue cheese crumbles to the garlic Parmesan olive oil brushed on top, these vegetarian quesadillas are filled with flavor. Finger-licking good flavor.
Spinach-mushroom quesadillas
Serves 2
Ingredients: 
1 tablespoon butter or ghee
1/2 yellow onion, sliced thin
5 to 6 crimini mushrooms, washed and sliced thin
2 cups baby spinach
1 tablespoon balsamic vinegar
Kosher salt and fresh-cracked pepper to taste
2 large flour tortillas
1/2 cup freshly shredded sharp cheddar cheese
2 tablespoons crumbled blue cheese
1 clove garlic, crushed
1 tablespoon freshly grated Parmesan cheese
1/4 cup olive oil, plus 1 tablespoon for cooking quesadillas
Directions:
Melt butter in a large skillet pan over medium heat.
Add onions and sauté until translucent, 5 to 7 minutes.
Add mushrooms to the pan with the onions and continue to sauté until they are cooked, 3 to 4 minutes. Adding more butter if needed.
Add spinach to the pan and cook while stirring until wilted, about 2 minutes.
Add the balsamic vinegar and season with salt and pepper to taste. Stir to combine and remove from heat.
Lay the tortillas on a flat surface and sprinkle one half of each tortilla with 1/4 cup sharp cheddar cheese. Spoon spinach-mushroom mix on top of the cheese and top with blue cheese crumbles. Close the tortillas by folding the side with nothing on it on top of the side with the filling.
In a small bowl, combine the garlic, Parmesan cheese and olive oil. Brush this on 1 side of the quesadilla.
Place the quesadillas, brushed side down in a hot skillet pan coated with the remaining tablespoon of olive oil. Cook until brown on the 1 side. Brush the other side of the quesadilla with the garlic Parmesan oil and flip to cook on the other side. Once both sides are golden brown, remove the quesadilla from the pan, slice into 3 or 4 pieces and enjoy.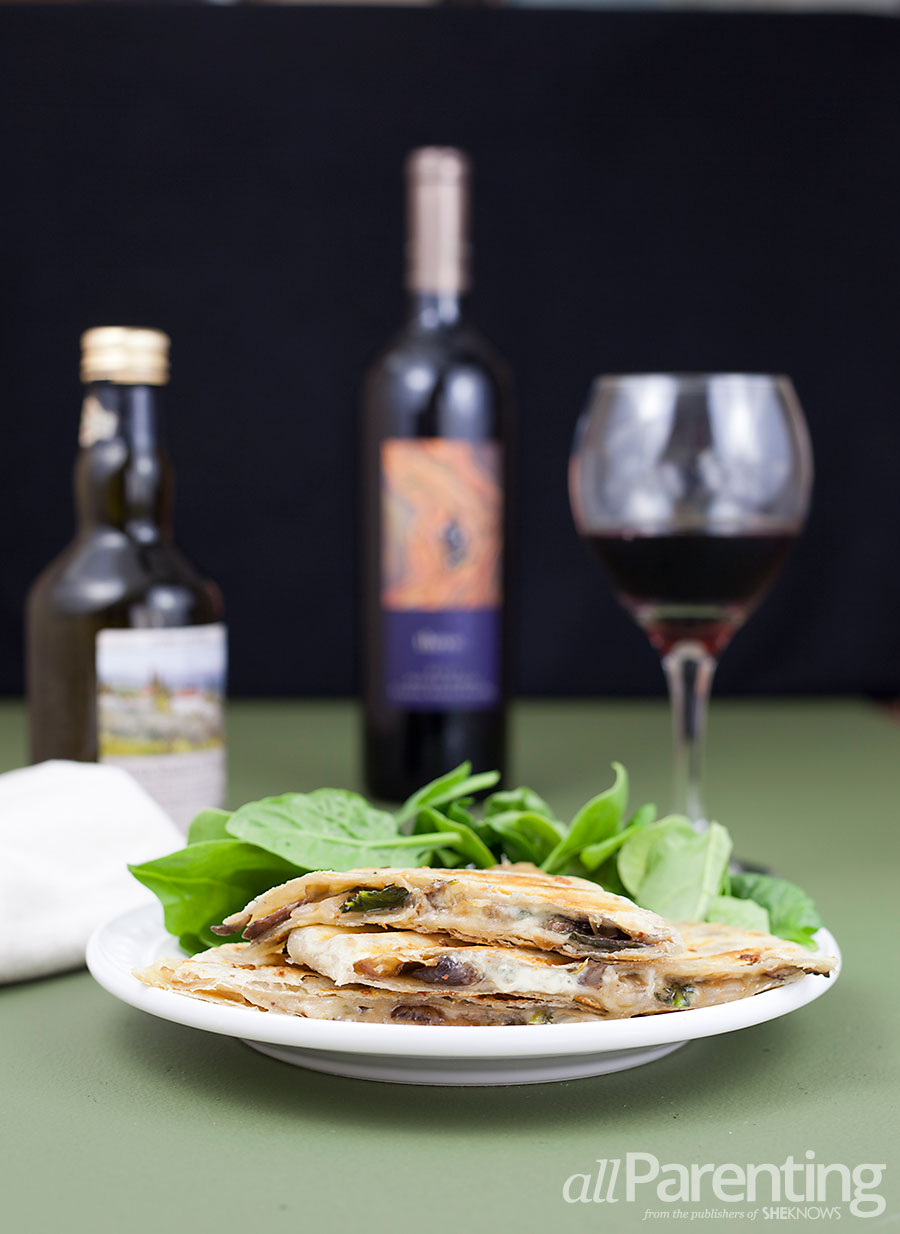 Hungry? Scroll through our delicious recipes!