Posted: Sep 03, 2014 8:00 AM
This salad is a classic for a reason. The rich taste and texture of salmon adds substance to light summertime salads. Cooking fish on the grill has never been easier.
A fresh grilled salmon salad is a staple of summertime dining, but many home cooks tend to struggle with cooking salmon on the grill. If you have ever had salmon stick to the grill, turning into hopelessly unappetizing shreds of fish, this recipe and grilling tips are for you. Once the salmon is cooked to tender perfection, it is served on top of crunchy romaine lettuce, along with other vegetables and a bright lemon dressing.
The first trick to stop the fish from sticking is to oil the grill well. Use a silicone brush to coat the grill with oil and be sure to use an oil with a high smoke point, such as canola oil. Olive oil is not a good option for this purpose.
The second, and most important tip for avoiding sticking problems is to leave the fish alone. Once the fish is placed on the grill, avoid the temptation to move it or frequently lift it to look at the underside. Letting the salmon sit, untouched, on the grill allowing a crust to form, which in turn causes the fish to release from the grill. At a medium-high heat, this will happen within several minutes.
Now you can grill any fish without fear. It's time to "wow" your family and friends with quick and flavorful summertime recipes.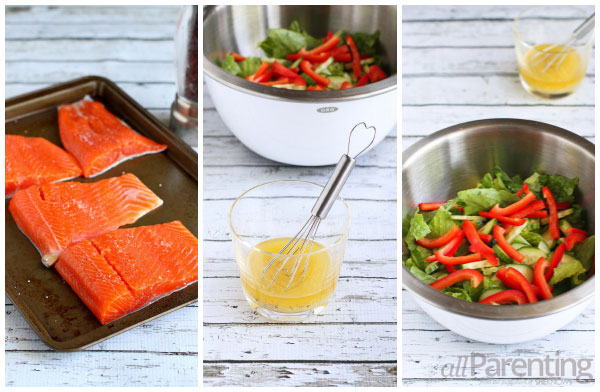 Grilled salmon dinner salad
Serves 4
Ingredients:
The salmon:
4 (6 ounces each) salmon fillets
1/4 teaspoon salt
1/4 teaspoon ground pepper
The dressing:
2 tablespoons lemon juice
3 tablespoons extra-virgin olive oil
3/4 teaspoon honey or agave nectar
1/8 teaspoon salt
1/8 teaspoon ground pepper
The salad:
6 cups torn romaine lettuce
3/4 cup sliced cucumber, cut in half
1 small red bell pepper, thinly sliced
4 large basil leaves, thinly sliced
Directions:
The salmon:
Preheat the grill to medium-high heat and oil the grill.
Press paper towels on the salmon fillets to remove any moisture and season the skinless side of the fillets with salt and pepper.
Place the salmon on the grill, skinless side down. Cook until a crust forms on the underside of the salmon, about 4 minutes. Flip the fillets and cook until the salmon is just cooked through.
The dressing:
In a small bowl, whisk together the lemon juice, olive oil, honey or agave nectar, salt and pepper.
The salad:
Place the lettuce, cucumber, red bell pepper and basil in a large bowl and gently toss with the lemon dressing to taste.
Divide the salad between 4 dinner plates and top each with a piece of salmon. Serve.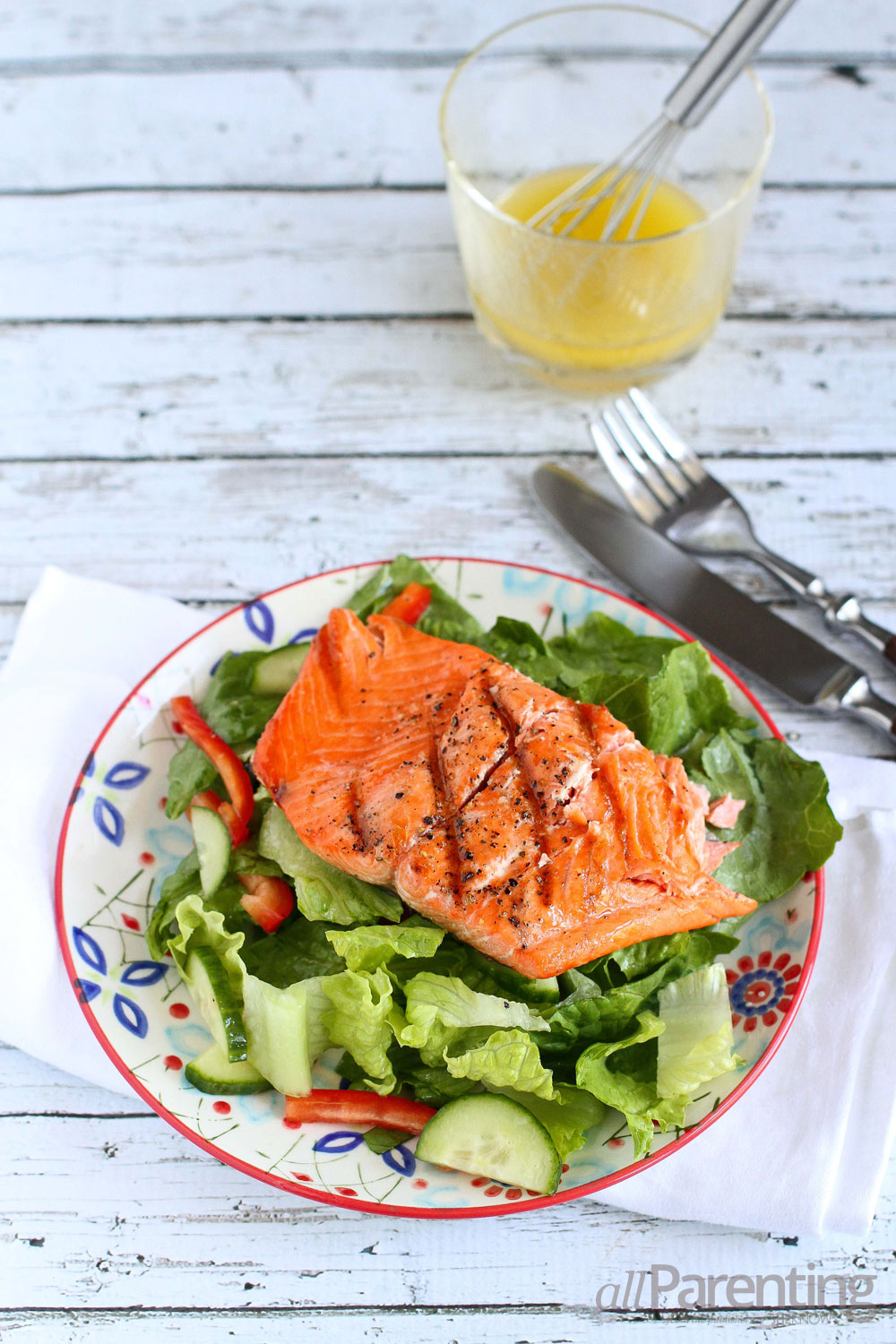 Hungry? Scroll through our delicious recipes!