Posted: Sep 25, 2014 8:00 AM
Let's be honest… chicken, while a healthy dinner option, can be a little uninspired. This dish, with proscuitto, bathed in a creamy pesto sauce with juicy tomatoes, will have you rethinking chicken.
Ingredients:
4 slices prosciutto
4 (6 ounce) boneless, skinless chicken breasts
2 tablespoons flour
1 tablespoon olive oil
1/4 cup basil pesto
1/3 cup cream
20 mixed cherry tomatoes
Kosher salt
Black pepper
Directions: 
Lay out the slices of prosciutto on your cutting board.
Season both sides of the chicken breasts with 1/2 teaspoon pepper.
Dredge the chicken with the flour.
Lay each chicken breast on 1 slice of prosciutto and wrap the prosciutto around the chicken.
Warm the olive oil in a large skillet over medium heat.
Add the wrapped chicken to the skillet and cook until the prosciutto is crisp and the chicken is cooked through, roughly 5 to 6 minutes per side, or until it's brown and the internal temperature reaches 165 degrees F.
Meanwhile, warm 2 tablespoons of olive oil over medium-high heat.
Add garlic and sauté until golden, about 2 minutes.
Transfer the cooked garlic to a plate, reserving the oil in the pan.
Add cherry tomatoes to the hot oil, lightly sprinkle with salt and pepper and cook, covered, stirring occasionally, just until tomatoes begin to soften and blister, about 2 minutes.
In a small bowl, whisk together the pesto and cream.
When the chicken is fully cooked, pour the mixture over the chicken, and add the tomatoes.
Bring the mixture to a boil, then turn off the heat.
Transfer to a plate and serve. This chicken dish pairs perfectly with our arugula salad with pine nuts and Champagne vinaigrette.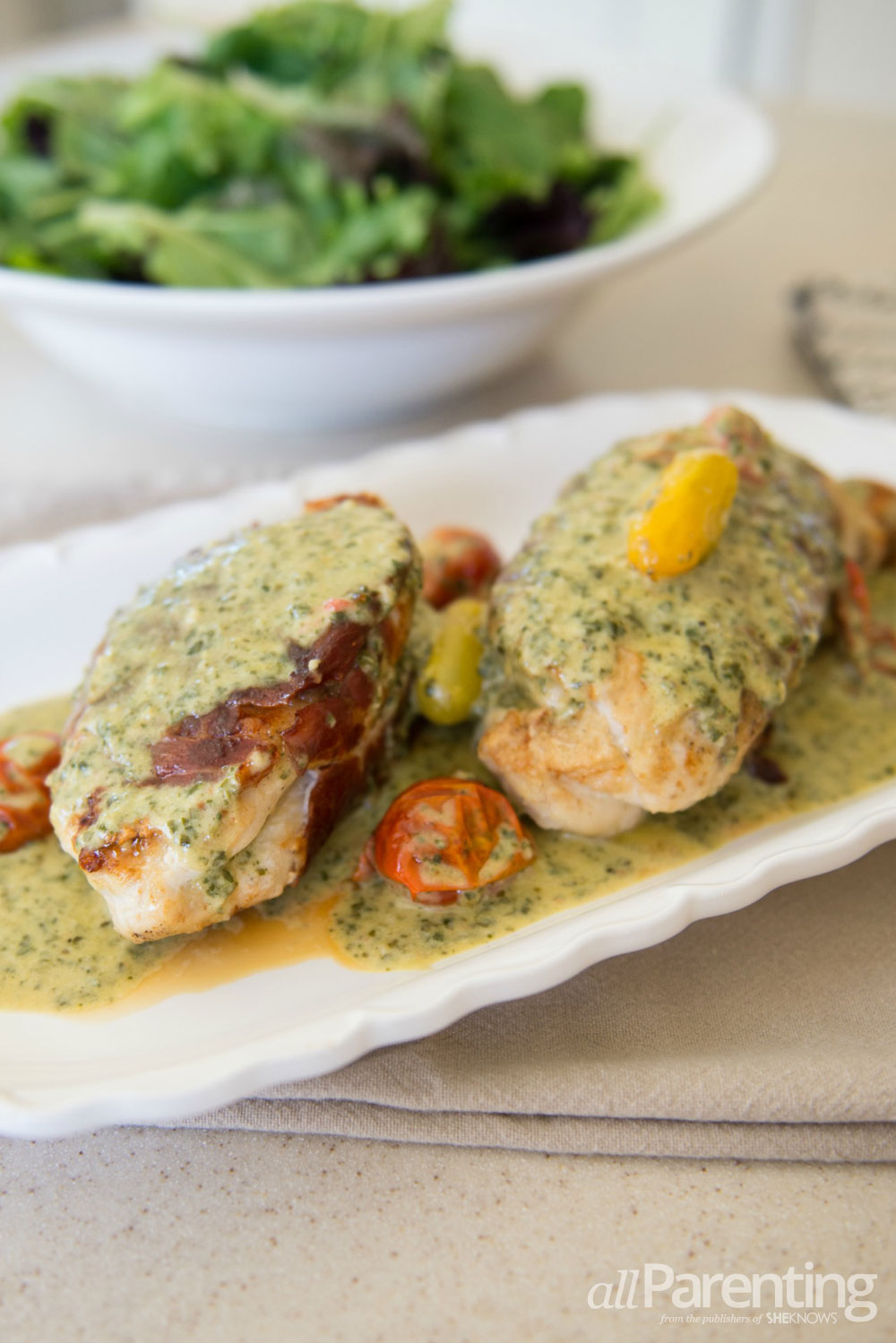 Hungry? Scroll through our delicious recipes!