Posted: Sep 13, 2014 8:00 AM
Grapefruit recipes are landing on top for their perfect pucker and sweetness scores. This healthy ingredient is quickly becoming the creative cook's best friend. We've gathered recipes using grapefruit you're going to want to make right away. So load up on nature's latest gift, you've got some delicious cooking to do.
Photo credit: Olha_Afanasieva/ iStock/360/ Getty Images
Well known for its nutritional — and pucker — value, grapefruit has recently been put on the A-list of ingredients. Boasting a burst of flavor, only 140 calories and a slew of energizing nutrients including vitamin C, fiber pectin and antioxidant-rich lycopene, grapefruit is a perfect cooking staple. But it's also ridiculously versatile making it a surprising flavor win in recipes ranging from salads to desserts to cocktails. We've gathered nine recipes that rock grapefruit and one tutorial on the best way to slice open this kitchen gem. Because if you're going to be cooking with grapefruit as much as we think you're going to be, you'll need a simple and efficient way to get to this delicious fruit.
Grapefruit, avocado and shrimp salad

Photo credit: The Kitchen Paper
Mary is an Oregon native currently wandering through Southeast Asia. She writes and cooks on her delicious site, The Kitchen Paper, where she shares tidbits about her cooking, running, cycling, traveling and life. Mary's recipe that rocks grapefruit is her Grapefruit, Avocado and Shrimp Salad, a beautiful, impressive dish that's easier to pull together than you might think. And you'll never guess her secret for creating this meal's fancy shape.
Avocado cucumber grapefruit salad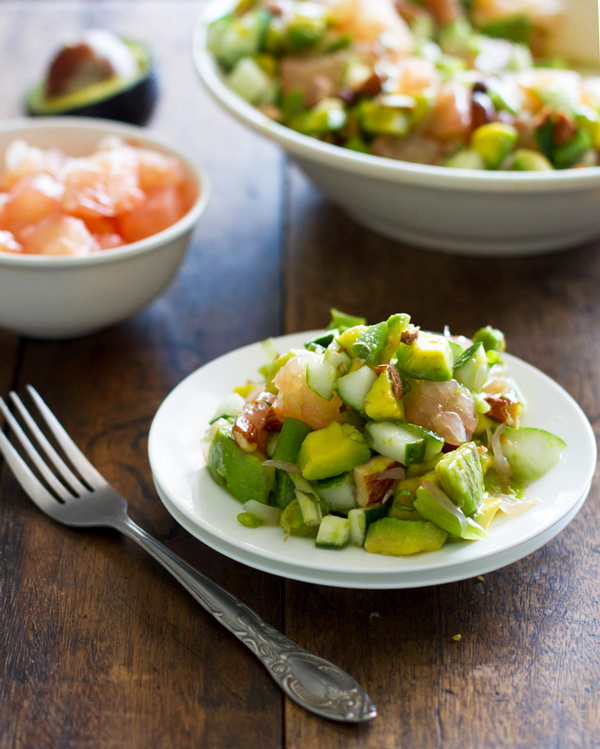 Photo credit: Pinch of Yum
Lindsay is a food enthusiast with an appetite for almost anything who does the cooking, writing and photography on the beautiful site Pinch of Yum. Her husband, Bjork, does the tech support and financials for the site and, together, they're a Food Blogger Pro team. Lindsay's recipe that rocks grapefruit is her Avocado Cucumber Grapefruit Salad about which she says, "How can a salad with soft pinks and light greens and the most cooling, refreshing flavors not make you feel like the most beautiful thing alive?" Sold? Us, too.
Brussels sprout and avocado winter rolls with grapefruit Hoisin dipping sauce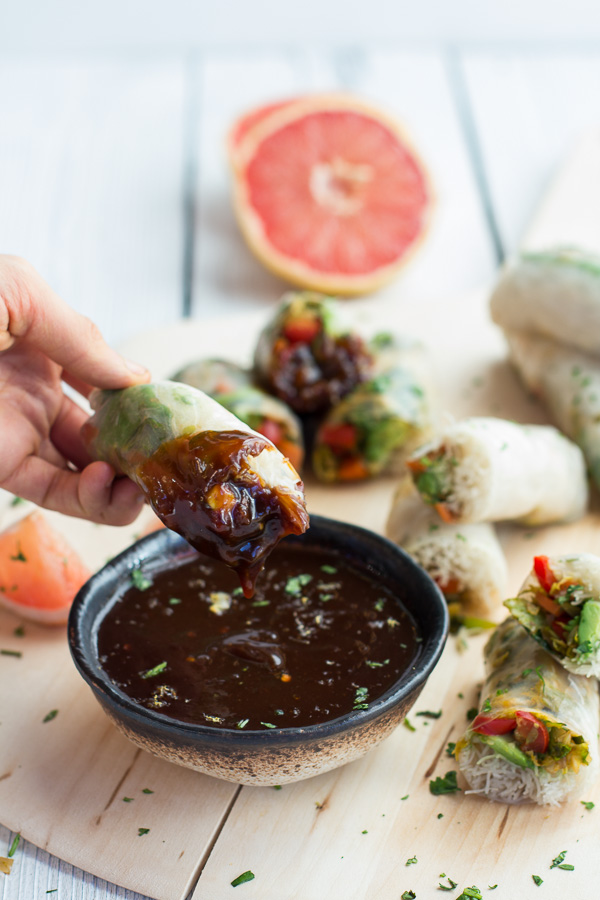 Tieghan began reading food blogs at age 13 and began cooking at age 15. Today, at age 20, she stocks the pantry and makes all the meals for her large family — five picky brothers, a little sister and two busy parents. She came up with the name of her food blog, Half Baked Harvest, to represent the crazy environment in which she cooks. "Half Baked" for her family and "Harvest" for the delicious, wholesome foods she creates to be shared with family in the comfort of a cozy home. Tieghan's impressive food journey is reflected in her recipe that rocks grapefruit: Brussels Sprout and Avocado Winter Rolls with Grapefruit Hoisin Dipping Sauce. These rolls are quick, easy and perfect for a healthy dinner, lunch or appetizer. They can be made completely ahead of time and, in this case, the (grapefruit) secret really is in the sauce.
Photo credit: Half Baked Harvest
Candied cardamom grapefruit
Photo credit: in sock monkey slippers
Meredith Steele writes the family food blog, in sock monkey slippers, celebrating creative, fresh whole foods and bringing the family together around the dinner table. On her blog, you'll find step-by-step recipes for everyone in the family and a peek into the sometimes comical life of Meredith — in her sock monkey slippers. Meredith's recipe that rocks grapefruit is her Candied Cardamom Grapefruit, a true indulgence of sweet, tangy grapefruit with a hint of cardamom that's meant to be enjoyed — devoured? — as a treat or used to put the final touches on cakes, cupcakes or even martinis.
The Paloma
Photo credit: BS' In the Kitchen
Bob and Carlene Deutscher are the brother and sister team who write BS' In the Kitchen where they take readers on their foodie adventures, reinvent traditional recipes and try their hand at cooking the classics. You can count on Bob to cover most of the savory and hearty dishes while Carlene takes care of the sweeter side of things with delightful desserts. Bob is behind their recipe that rocks grapefruit: The Paloma. The blend of these classic drink ingredients creates a delightful, refreshing cocktail that you're sure to make again — and again.
Grapefruit cake with grapefruit buttercream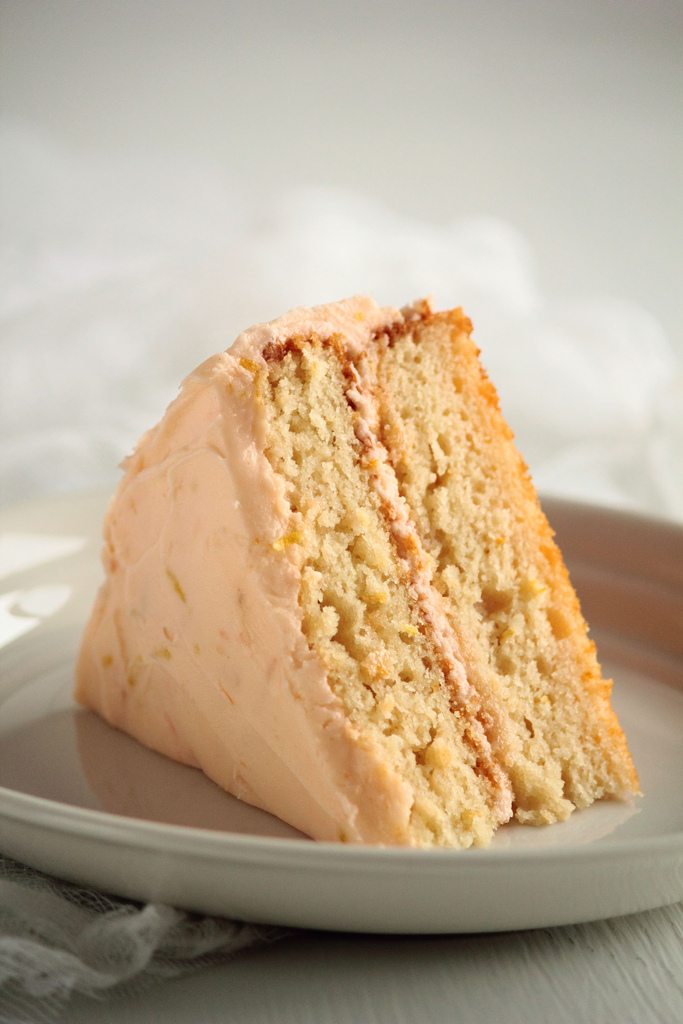 Kristin once had an affair with pastries while she was attached to physics. Today, she's the creative force behind Pastry Affair, where she takes a rustic, honest approach to food. It's a space where you'll find a generous amount of butter and sugar, photography and a whole lot of life. It's also where you'll find Kristin's amazing Grapefruit Cake With Grapefruit Buttercream, a recipe she created when she was struck with an overwhelming craving for something sour. This cake is fresh and bright, with a flavor you're sure to truly appreciate and crave just like Kristin did.
Photo credit: Pastry Affair
Grapefruit-infused rum
Photo credit: Kitchen Konfidence
Brandon is the food explorer, recipe curator, cocktail shaker and dessert lover who does all of the cooking, photography and writing at Kitchen Konfidence. Brandon cooks around his passions which include desserts, seasonal ingredients, modernist methods and multicultural bites. He's not afraid to venture into unknown food realms, which led him — and us — to his Grapefruit-Infused Rum, a delightfully simple recipe that's sure to please.
Broiled honey grapefruit
Photo credit: Clean Eating
Tiffany writes and lives by her blog, Clean Eating. Her goal is to share as many tasty, clean and healthy recipes as she can in the hopes of showing people that eating healthy doesn't mean eating food that tastes like cardboard, rather, it's about how many nutrients you can include in your next delicious meal. Tiffany's recipe that rocks grapefruit is her Clean Eating Broiled Honey Grapefruit, a lovely twist on the raw version. It's warm, juicy and really allows grapefruit's trademark flavors to pop.
Grapefruit and kale green smoothie

Nicole is the passionate cook behind WonkyWonderful. She gets so much joy from developing original recipes, photographing beautiful food and sharing her creations with her loved ones — and this shows in every recipe she creates. Nicole's recipe that rocks grapefruit is her Grapefruit and Kale Green Smoothie, a delicious and easy way to eat — or drink — your fruits and vegetables. The grapefruit and kale complement each other in flavor and nutrients making this smoothie a true healthy treat.
Photo credit: WonkyWonderful

Photo credit: Kitchen Confidante
How to peel a grapefruit
Liren is a mother of two, a wife to one and the voice behind Kitchen Confidante, where she shares anything she finds truly worthy of a place in the kitchen — an ingredient, a wine, a recipe — whatever enhances escapades in the kitchen and makes taste buds smile. On her blog, Liren shares something we all need to know: How to peel a grapefruit. Her step-by-step instructions and video tutorial are both a must-see.
More on delicious fruit to eat
Passion fruit margaritas
3 Tropical smoothie recipes
Food bloggers share what to do with fresh strawberries