Posted: Sep 17, 2014 5:00 AM
If you love garlic like we do, you'll want to try this roasted garlic and spinach pizza. Topped with a fried egg (and maybe some bacon), it will become your new favorite at-home pizza.
For your next pizza night, skip the delivery and instead treat yourself to this mouthwatering roasted garlic and spinach pizza topped with an egg. That's right, we said an egg on your pizza. Before placing the pizza in the oven, crack an egg on top and bake until the pizza's done. The egg should be the consistency of a fried egg (over easy) so that the runny yolk oozes out into the crust after cutting. It's fantastic. Trust us on this one.
As the recipe is written, this is a vegetarian pizza. However, if you want to add in some meat, bacon and/or chicken would also be a good addition. In case you were wondering...
Roasted garlic and spinach pizza with a fried egg
Serves 4 to 6
Ingredients:
1 head garlic
Olive oil
Kosher salt and freshly cracked pepper
1 ball pizza dough
1 cup shredded mozzarella
1/3 cup cherry tomatoes, cut in half
1/4 cup baby spinach
1/4 cup fresh grated Parmesan cheese
1 egg
Directions:
Preheat oven to 375 degrees F.
Cut off the top part of the head of the garlic so that the cloves inside are exposed.
Drizzle a little olive oil inside a pie pan and roll around to coat the middle of the pan.
Place the garlic head in the middle of the pan, cut side up. Drizzle the top of the garlic cloves with olive oil and sprinkle with kosher salt and freshly cracked pepper.
Cover the pie pan with foil and place in the oven for 40 to 45 minutes, or until the cloves are golden in color.
Allow to cool for 10 minutes before squeezing the cloves out of the skin. Place the roasted garlic in a small bowl and mix with 2 tablespoons olive oil. Note: Making the roasted garlic oil can be done the day before.
Turn the heat on the oven up to 475 degrees F.
Roll the pizza dough out on a lightly floured surface. Transfer to a nonstick pizza pan.
Spread the roasted garlic olive oil mixture on the dough.
Top with shredded mozzarella cheese.
Add the cherry tomatoes and baby spinach and top with freshly grated Parmesan cheese.
Crack the egg into the middle of the pizza. If desired, crack fresh black pepper over the pizza.
Bake in the oven for 8 to 11 minutes, or until the dough is cooked, the cheese is golden and the egg is just set but the yolk is still wobbly.
Slice pizza after removing from oven, serve and enjoy.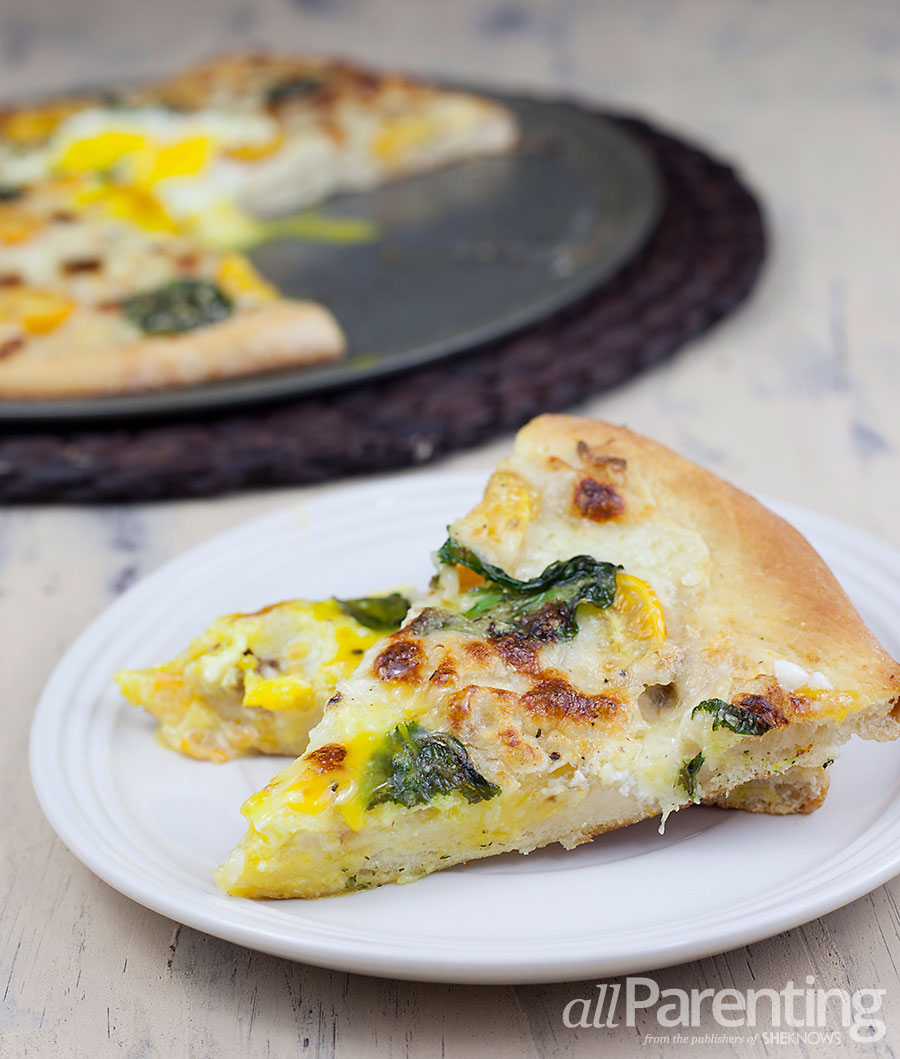 Hungry? Scroll through our delicious recipes!