Posted: Sep 29, 2014 5:00 AM
Casseroles don't need to be "old school" and can appeal to the whole family when made with tender pasta and chicken in a light creamy sauce.
It's time to bring back the classic chicken casserole, but far past time to ditch the cream of mushroom soup that is traditionally used to make the creamy sauce. This chicken noodle casserole is comfort food with a healthy twist. The cream sauce is thickened with a mixture of flour and low-fat chicken broth, and turned velvety with the addition of grated cheddar cheese.
There are a few steps to making this casserole, but each one goes quickly. To save some time, use the meat from a rotisserie chicken rather than cooking the chicken breast at home. Add it to the mixture when adding the noodles to the sauce. Serve the casserole with a green salad or steamed broccoli for a well-rounded meal.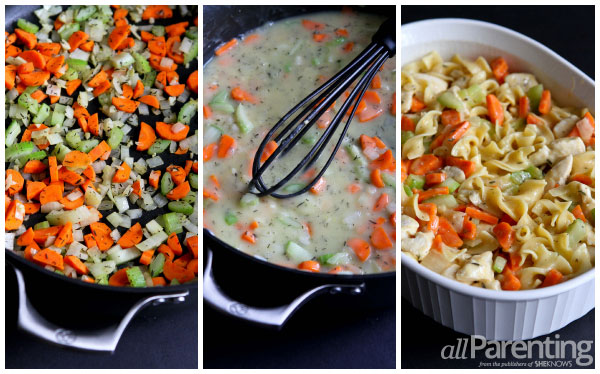 Chicken noodle casserole
Serves 6
Ingredients:
8 ounces egg noodles
5 teaspoons olive oil, divided
2 boneless, skinless chicken breasts, cut into 3/4-inch pieces
2 carrots, cut into half-circles
1 celery stalk, chopped
1/2 onion, chopped
1-1/2 teaspoons dried thyme
4 garlic cloves, minced
1/4 cup all-purpose flour
1-3/4 cups low-fat chicken broth
2/3 cup grated cheddar cheese
3/4 teaspoon salt
1/2 teaspoon ground pepper
1/4 cup panko breadcrumbs
2 tablespoons grated Parmesan cheese
Directions:
Preheat the oven to 425 degrees F. Coat a 3-quart baking dish with cooking spray.
Cook the egg noodles 2 minutes less than the package directions. Drain and rinse with cold water.
Heat 2 teaspoons of olive oil in a large nonstick skillet. Add the chicken and cook until just cooked through. Transfer to a bowl.
Using the same skillet, heat 1 teaspoon olive oil. Add the carrots, celery and onions, and cook for 3 minutes. Add the garlic and cook for 30 seconds.
Move the vegetables to one side of the pan. Add the remaining 2 teaspoons olive oil and the flour to the pan. Stir to combine with the vegetables. Slowly pour in the chicken broth, whisking constantly. Bring to a simmer and continue to cook, whisking, until the sauce has thickened, about 3 minutes.
Remove from the heat and stir in the cheddar cheese, salt and pepper. Once the cheese is melted, add the noodles and chicken to the skillet. Stir to coat with the sauce. Transfer the mixture to the prepared baking dish.
In a small bowl, combine the panko breadcrumbs and Parmesan cheese. Sprinkle over the casserole.
Bake until the sauce is bubbling and the breadcrumbs are starting to brown, about 20 minutes. Serve.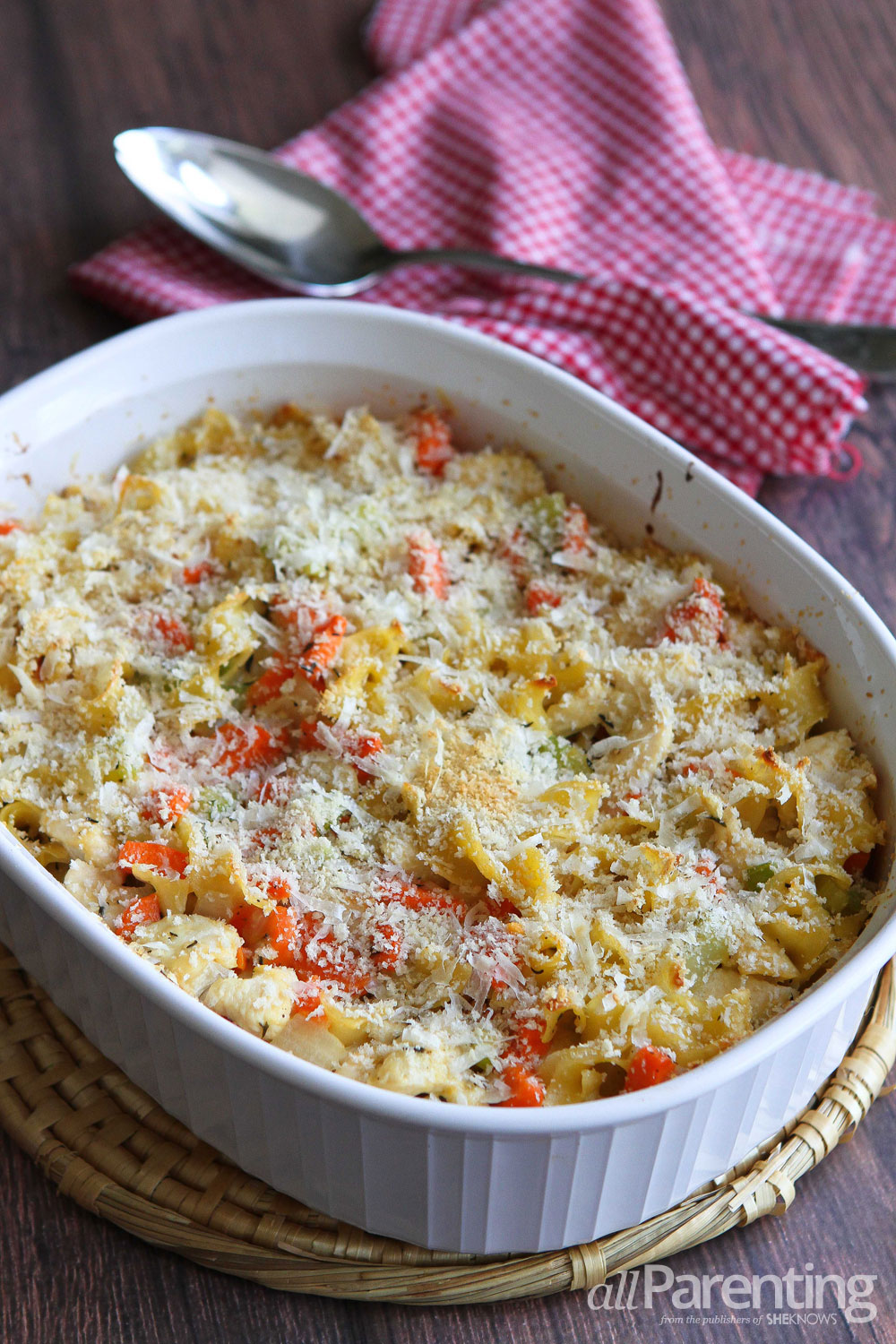 Hungry? Scroll through our delicious recipes!